Jericho Downloadable Artwork Book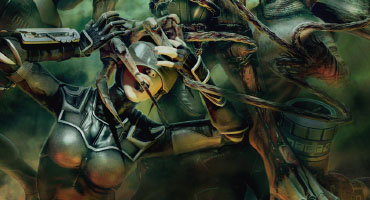 Codemasters' artists have compiled a terrific collection of the best artwork pieces from Clive Barker's Jericho. Believe me, you don't want to miss that!
The Art of Clive Barker's Jericho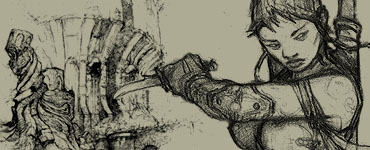 Gaming Today exclusive interview with lead designer Joe Falke:
"The monsters really sprang from Clive's Mind. He passed us a lot of sketches with background information on each monster and boss which we worked to. We really wanted a realistic, visceral feel to our enemies, and with the power of next-generation consoles and PC technology, we were able to invest heavily in the visuals."
Church and Black in Playboy's Girls of Videogames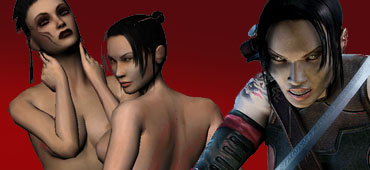 The December issue of Playboy hit the streets today featuring the dirty bunny's 4th annual tribute to the hottest video game vixens. "Playing Rough" features images made by the game developers and includes Church and Black from Clive Barker's Jericho ;)
The Times: Raising Hell in the Video Games


In the interview called "Vintage Violence", Clive Barker tells The Times about his plans:

Barker is planning more projects with the Warwickshire-based developer Codemasters. A

Jericho sequel

is one plan. "I've already told Code-masters where the next game will head," he says. "It starts on an aircraft carrier in the middle of the ocean, with

666 children in the hold

..." The Great Revelations Giveaway
OFFICIAL REVIEWS!!!


Magic powers, awesome guns

and multiple characters… What more could you want?" – 8 out of 10, IGN (UK)

► "The game's

kinky, bondage-loving knife-wielding zombies

help set the game apart in a crowded market" – Empire, «««« (UK)

► "The gaming equivalent of

a page turner

"– FHM, «««« (UK)

► "Definitely one that

all horror fans should check out

"– Eurogamer

► "A horror game that's

very gory, very violent

"– Johnny Minkley, Radio One (UK)

► "One of the most intriguing and just

plain different

games to come along in years" – Play, 84% (UK)

► "A gross out filled squad based first-person shooter that packs

as much action as it scares

. Stellar!"– PSW (UK)

► "

One of the best shooters this year

. Jericho is a delectable treat that will make it feel like Halloween" – Deeko.com, 9 out of 10 (USA)

► "The game

looks and sounds terrific

, and it has a cool popcorn-movie-with-a-brain story... Clive Barker should develop more games."– Play, 8 (USA)

► "Battle an ancient evil hellbent on destruction in this

shooter from the famed horror guru

"– Maxim (USA)

► "Clive Barker at last brings his

signature brand of bloody imagination

to a major video game"– Animation (USA)

► "It's a

thrilling and atmospheric

experience that is so viscerally satisfying"– Spin, 4/5 (USA)

► "A

poop-your-pants-scary

video game"– Stuff (USA)

► "

Scariest videogame EVER!

"– PC Gamer (USA)

► "

Gorgeous ambiance

"– PC Jeux (France)

► "Jericho is

one of the most energetic games

available on PS3"- Official PlayStation (France)

► "Barker is a master when it comes to

thrilling and disgusting

things"– Jeuxvideo.com

► "Clive Barker's Jericho is a

delightful entertainment for all flesh lovers

"– Jeuxactu.com (France)

► "

Blood and guts splash

on the screen in this game that honors the next-gen consoles"– Eurogamer.fr (France)

► "

Adults have to buy until the game gets banned!

A bloodthirsty travel through the abyss."– PC Action (Germany)

► "We've

never seen such horrible and gruesome monsters

in a game before... That's how it should be with a horror game with Clive Barker's name on it"– Play-Zone (Germany)

► "A tactical shooter paired with id software-like demons–

horror fans will love that

"– PC Games (Germany)

► "Jericho is graphically captivating and encouraging. Its passion for detail and its

no-nonsense worship for the sick and bloody

are, definitely, to be praised"– SuperJuegos Extreme, 85 (Spain)

► " A sublime atmosphere, exquisite character designs and an exciting story... An intense experience

full of surprises and great moments

"– Meristation, 8/10 (Spain)

► "

Extremely detailed

settings... all the graphics reach a great level"– Official PlayStation, 8.5 (Spain)

► "

Amazing graphics, beautiful music

: Excellent!"– Gameparty, 88 (Benelux)

► "One big enjoyable,

fearful thrill

"– Power Unlimited, 80 (Holland)

► "Jericho is the

big surprise of this fall!

"– Gamekings (Benelux)

► "Unique weapons, special forces and

the most gruesome monsters ever

"– Official PlayStation, Benelux

► "

You HAVE to buy this game

if you love horror", Gunk (Benelux)

► "

Excellent character design

!"– The Games Machine, 88 (Italy)

► "An involving setting, a creative plot and

intriguing gameplay

"– PlayGeneration, 83 (Italy)

► "Welcome to the

sickest game

since 'Guess that >beep!< With Your Mouth"– Zoo Weekly, 100% (Australia)

► "Jericho is simply amazing and one of

the best horror games of 2007

"– MyGen.com, 8.4 (Australia)

► "An unnerving

freak fest with grotesque monsters and hellish décor!

"– New Age Gamer (South Africa)

► "

The darkest shooter

that we have ever played"- Official PlayStation PS2 official (Greece)

► "Definitely is not a game for fearful, as blood is everywhere and

the most disgusting creatures

are appearing from anywhere"– Games 87% (Greece)

Jericho TV Advert (US)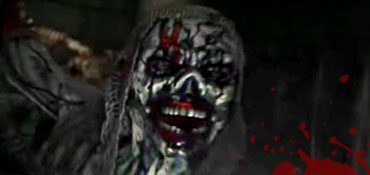 Now you can watch the newly made television/cinema advert for Jericho on our website! Don't miss it-
the video is short but sweet!
Exclusive Greetings From Actor Oliver Smith!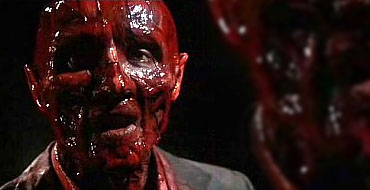 Oliver Smith
– the actor that provided the voice-over for our Jericho TV and Cinema advert– has very kindly recorded a special and highly exclusive message for you!
Oliver actually appeared as
"Frank the Monster" in Hellraiser and Hellraiser 2
– so the connection here is uncanny!
Jo Whiley Show on Radio 1: "It's very, very gory"

Jo Whiley Show on Radio 1!
"He's the latest big Holywood guy to fall in love with gaming"
"He's decided that game is an incredible medium"
"It's very, very gory, very violent, 18 rated, it's an adult game"
"He's quite an ill guy"
"If you are fan of his work and you want to see what his mind's like in video game I recommend checking it out"
More reviews!

IGN 8/10
-
"An unsettling all-action shooter with a twisted plot and an innovative character-switching mechanic"
"Jericho is a unique and intense addition to the highly competitive FPS market"
"Magic powers, awesome guns and multiple characters... What more could you want."

Play (US) 8 out of 10
-
"The game looks and sounds terrific, and it has a cool popcorn-movie-with-a-brain story and superb voice work... Clive Barker should develop more games."
Play UK mag 84/100
-
"A gory treat" "One of the most intriguing and just plain different games to come along in years"
MyGen.com 8.4 out of 10
-
"Jericho is simply amazing- one of those games FPS and Horror fanatics must check out."
The Clive Barker Interview Part 1/4 on Newsweek.com

N'Gai Croal:
Where did the idea for Jericho come from? Where did it begin?
C.Barker:
From two sources. A long time ago I found some books by a guy called Wilfred Thesiger, an Englishman, who was the first man—the first white man—to cross the Rub' al Khali [part of the Arabian Desert]. The word means "the Empty Quarter";
the emptiest place on the planet
. Thesiger crossed in the '20s and then again in the '30s, and it was thought to be
basically impossible
. Even the Bedouin, who obviously were very familiar with it—this was their country, their land—went only in extremis. If they really, really had to, they crossed it.
And just a little aside on the Thesiger thing: I decided I wanted to use this image of emptiness and I used it first in a book called
"Weaveworld"
, which I wrote back in the '80s.
First US Review in Play Magazine!

"The game looks and sounds terrific"
"Creepy and intense"
"Clive Barker should develop more games"
"It's easy to recommend Jericho"


Play Magazine's November issue is in US stores now.
Mega-Interview with Clive Barker at IGN

C.Barker:
"<...> the Rub' al Khali- this isn't my first visit to the "Empty Quarter". I did a novel called Weaveworld, the final portions of which are set in the Rub' al Khali because it's the place where, in the book, Eden was supposed to have stood; and the angel Uriel, who guarded the garden with a flaming sword, is a major character in that novel... I wanted to visit the Empty Quarter again... And so Codemasters and Mercury Steam made these images- these gorgeous images. And terrifying."
Jericho PS3 Game and T-Shirt Competition at ThreeSpeech

Updated Hands-On at Gamespot

Grab your torch and gun, Gamespot crawls around in the dark with upcoming horror-themed shooter Clive Barker's Jericho!
Some quotes from the article:
+
"The environment plays a huge role in Jericho, and in suitable horror-styling, you'll spend a lot of your time crawling around in the dark."
+
"Without spoiling the storyline, you will encounter other AI controlled players within the environment."
+
"<...> becomes crucial to your survival, especially with enemies often killing you with a single blow."
Happy Birthday Clive Barker!

Fansite contest winner

From Codemasters.co.uk:
With some truly stunning entries, the decision was tough. In the end there was a very close call amongst four sites however the deciding votes were cast and we can now reveal that
the winner of the grand prize
is:
Clive Barker's Jericho fansite -
http://www.Slavinskas.com/Jericho
Congratulations to
Dee Slavinskas
for this really fantastic entry. We were all extremely impressed with your skills and design, we thought the site was extremely stylish and very well executed. It was a very slick piece of work! Well done!
New classified material

Jericho's member Cole
and the new operation area-
World War II time slice
. The information is followed by new
spy shots
and
secret videos
that prove the acquired facts.
Turn the sound on!

By the way, this new feature works with
Screenshots Gallery
the best- it became almost a
multimedia comics
!
"Games are much more literary than movies"

GameSpy UK
.
GameSpy:
What do you think games let storytellers do that movies don't?
Clive Barker:
Movies typically don't have time for things like length, complexity, or elaboration on mythology. When you step out of a movie, four hundred new people walk in, and exactly the same movie plays out. But a game can reflect your personal tastes and can shape itself to you the way a novel does, and this is happening more as the technology advances. Games are actually much more literary than movies; movies are just passive.
Win a copy of Jericho or the Official T-shirt!

Frank the Monkey Jericho Competition
and you could win a copy of the game for PS3 or the official T-Shirt!
And if you are UK mainland resident, don't forget to check out
MSXbox World
- they are giving away 3 copies of Jericho (apparently, for Xbox360!) and 3 Jericho T-Shirts
The horror maestro Clive Barker talks about his foray into war games

WIZARD:
What sparked your interest in war video games?
BARKER:
It's the intensity you feel. You see a very intense, real experience. Very often, horror games are spoiled by kitsch and camp, or they feel like somebody else's story all over again. It's Transylvania or Jekyll and Hyde by another name. And I think the player deserves something more than that. In my books, paintings and movies I've always tried to find imagery, which was new.
Jericho Playable Demo is Available Now!

More horror from Clive Barker

"Midnight meet train" (2008)
which is based on Clive Barker's 1984 short story of the same name (collection of short stories
Books of Blood
).
The Voice from Hell

about Clive Barker
for freshly added photos, text excerpts, audio downloads and more.
x360a Exclusive Interview with Raul Rubio from Mercury Steam

"It must be a real experience working with Mr Barker. Has he had much input throughout the whole process?"
"Absolutely. Clive Barker not only created the story; he also supervised each aspect of the project, giving his approval on each step we made to make sure the development went the right direction."
Clive Barker talks Jericho in podcast "Can video games be art?"

digitaltrends.com
Demo release date announced!

From the press release:Set to unleash a fright fest of supernatural horrors this week, Codemasters has revealed a new Clive Barker's Jericho™ video, which takes gamers up close with some the title's most demonic foes, and has scheduled the playable demo to be available this Thursday, September 27th.
Brand new Jericho preview at Game Tap!

"The story's ungodly concoction of unrelenting horror and the developer's unusual squad-based tactical shooting aspects distinguish this game from any others."
Fangoria interviews Clive Barker

click here
to read what Mr. Barker had to say about Jericho.
New Interview with Clive Barker at Revelations

visit the site
.
Clive Barker's Jericho Hands-on at IGN

"Jericho is shaping up to be a definite treat when it lurches onto PS3, Xbox 360 and PC this Halloween."